Introduction to Sawbones
Pacific Research Laboratories, Inc., also known as Sawbones, has been involved in revolutionizing how medical practitioners train and practice for surgery for more than three decades.
The company is a leading provider of anatomical and orthopedic models, including replicas of bones, which can be used by surgeons to practice before taking up a surgical procedure, and also to familiarize themselves with instruments required for those procedures.
These replicas are made from foam, and these foam models are also used in new product demonstrations, biomechanical tests, and patient awareness.
Sawbones believes in the importance of medical personnel honing their skills. This led to the creation of the "hands-on" workshop model. Sawbones biomechanical engineer Amy Posch stated that orthopedic surgeons could use the bone replicas to study the various ways to use hardware for surgical implants and instruments. These bone models can also be used in workshops where surgeons can discuss their learning especially when dealing with injuries such as fractures.
The Challenge
In the past, medical models included animal bones, cadaver bones, or various types of wood; however, these had their limitations. For instance, inconsistent mechanical properties and unstable shelf lives hinder precision in biomechanical tests. Therefore, when artificial materials are used as an alternative, it is crucial that their structure is as uniform as possible.
Sawbones follows the American Society of Testing Methods (ASTM) for orthopedic implant testing and device testing, and so materials used in creating bone replicas have to meet ASTM's rigid requirements. The crucial factor is that these replicas should possess properties that match human bone.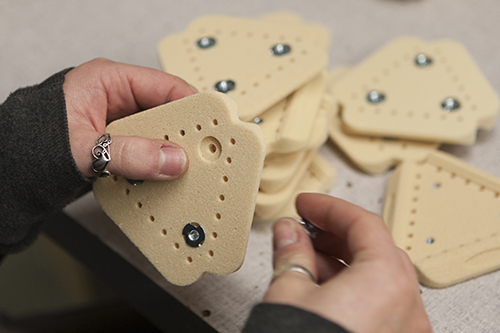 Block assembly Sawbones
Bones are made up of two key components – the inner spongy bone, which has a low-density, cellular structure, and the hard, outer cortical bone.
To achieve these features in the bone models, Sawbones required a high-caliber polyurethane foam, which can be created in different densities. Sawbones' requirements also included products that could be easily transportable in situations where the models were required for demonstrations.
The foam also had to be easy to cut and mold according to specifications. Thus, Sawbones chose to work with General Plastics.
Primary requirements:
Has properties that imitate human bone densities
Easy to machine
Resistance to water absorption and moisture
Uniform cellular structure
Availability of custom sizes
The General Plastics Solution
General Plastics' LAST-A-FOAM® FR-3700 Performance Core series was selected by Sawbones. This foam was used to create dual density, bi-cortical, CNC machined foam block models. Sawbones also used the LAST-A-FOAM® FR-6700 series polyurethane foam from time to time.
These General Plastics' foams were used for their resistance to moisture, consistent cellular structure, and machinability.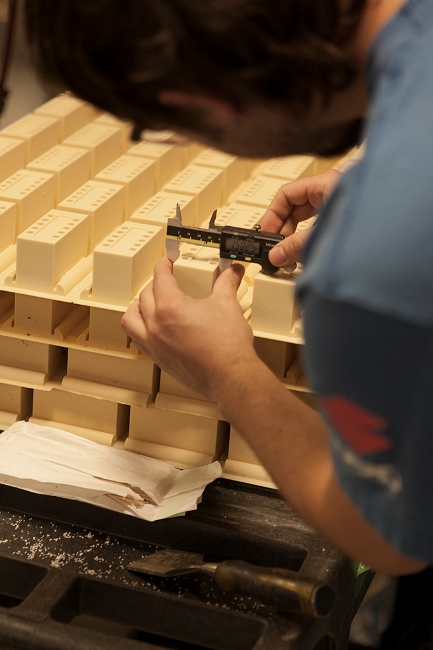 Caliper measurements
With General Plastics' polyurethane foam, Sawbones was able to manufacture bone models that offered all the bone qualities, which surgeons will come across during a surgery.
Sawbones and General Plastics have been in partnership for about two decades now, because of the foam's consistency, reliability, and onsite testing. Sawbones relies on General Plastics as a supplier who can offer material that meets its stringent requirements, including quality assurance and ASTM compliance.
Conclusion
General Plastics' LAST-A-FOAM® FR-3700 is the ideal material for creating bone replicas by Sawbones. The applications of the LAST-A-FOAM® FR- 3700 in the medical sector and in other sectors are continually increasing.
LAST-A-FOAM® FR-3700 is dimensionally stable, can be easily shaped using different types of cutting tools, will not support fungal growth, and offers excellent performance as wood replacement. It also comes in a broad range of custom sizes and densities, and does not absorb water or moisture.